In honor of Lola and her courageous battle....
Four Moments and One Date
Four moments I won't ever forget that are forever engraved in my heart.
October 2007
The day she called me to break the devastating news. She was diagnosed with breast cancer.
January 2009
I remember being in her kitchen that day. My mom told me her cancer metastasized to her bones.
April 2015
Things got worse. The cancer metastasized to her liver.
June 2019
She was sitting on my bed. She calmly shared with me her decision to stop chemotherapy.
Now here's the date that I loathe the most. September 11, 2019.
It leaves a bitter taste in my mouth. You see, my mom and I, we were a dynamic duo. It's always been just us two. We even had a running joke that I was her favorite daughter because I was her only daughter. She was my mother, my doctor, my teacher, my chef, my comedian, my shoulder to cry on, and so much more. Words cannot describe how wonderful she was and the indelible impression she left on everyone.
I was just 22 when I learned of her diagnosis. When she passed away, I was just shy of my 34th birthday. Each day, it felt as though we were walking on thin glass. It felt like death was always knocking on the door. Sort of like we were holding our breath. As time went on, I knew I didn't want my mom to suffer anymore. She did the best she could and she fought for so long. I think she knew I still needed her around for as long as she could put up the fight. I've found peace knowing she's no longer in pain.
Thankfully, her 29 years of service in the Marine Corps covered her costly medical expenses which helped her fight long and hard. For that, She got the treatment she needed. Being retired helped open her schedule for her chemotherapy and medical appointments.
I witnessed my mom go through every chemotherapy imaginable – severe neuropathy in her feet, darkening of her fingertips, extreme nausea, zero appetite, and major fatigue. It makes my heart throb, knowing there are hundreds of thousands of other women around the world going through this same situation.
When a life-threatening disease like cancer strikes, it often makes patients reflect deeply on life's priorities and meaning. Our personal religious, spiritual, or philosophical paradigms act as the lens through which we experience the illness. Everybody goes through the journey differently and finds their own answers.
My mother found refuge and strength in her Christian faith. She truly lived by her favorite verse
in Psalm:
He says, "Be still, and know that I am God;
I will be exalted among the nations,
I will be exalted in the earth."
● Psalm 46:10
While I would give into stress and anxiety whenever the scans were done, she always maintained a calm presence of believing, "God is in control and has me covered." I believe her resolute faith carried her through far beyond what doctors had estimated. She lived for five more years with cancer in her liver fighting a good fight.
She passed away with acceptance and dignity, in control of her emotions and as calm as ever. In June 2019, the last chemotherapy treatment she was undergoing was keeping things at bay. However, my mother made a conscious decision that she was now done with therapy, saying, "I am ready to go home!"
Life with mom was everything. Of course, we talked about unforgettable memories between us, her childhood years, and fun "girl talk" but we also shared upsetting conversations like my future without her here.
I am so thankful for the time we shared together. I'm also grateful for her medical coverage through the military. There was even a time where health insurance covered two major surgeries that should have cost her six figures. Those surgeries added another year to her life with us.
If it weren't for medical coverage, my mom wouldn't have made it past the first year. But she battled for 12 years. Let me repeat that – twelve years.
As a daughter of a mother who was blessed with no financial burdens, I want to make this possible for others out there. I want women to focus on recovering. I know that medical bills pile up and bank balances dwindle – it's financially devastating.
HER too was born to help women who are not as fortunate as my mom was. Our mission is to pay for treatment options – whether it be Western medicine or Eastern, including experimental and natural medicine – for breast cancer. We are a dedicated group who endeavors to raise awareness about breast cancer and to help women get the treatment they deserve!
I miss you mom and ILYSM. This is for you!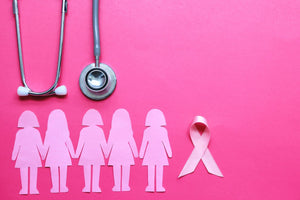 Get Help
APPLY
If you or a family member is undergoing treatment for breast cancer and is facing financial difficulties, learn more about how HER too can help.
Apply Now